DOUBLE HEADER ALBUM EVENT SPANS ICONIC HOLLYWOOD VENUES FOR ONE NIGHT ONLY (1/23)
HARDY starts the night at The Troubadour in West Hollywood (1/23) | Image by Brayln Kelly | Download Here
LOS ANGELES, CALIF. – As his audacious sophomore album, the mockingbird & THE CROW, continues accelerating through its first week of release worldwide, Big Loud Records heavy-hitter HARDY brought West Hollywood to its knees last night with a double header album event as original as the album it celebrated.
Stunning max capacity crowds with lines wrapped around the block at iconic Los Angeles venues The Troubadour and The Roxy, the buzziest country rocker in town took fans and industry players alike through both halves of his two-sided "country-metal odyssey" (Wide Open Country).
"How are y'all doing tonight," he greeted a wall-to-wall Troubadour crowd after an upbeat double shot of "beer" and "red." "I've heard some crazy stuff tonight. Some of y'all flew in for this, traveled across the country to be here. I can't really talk about that, or I'll start f—king crying…'cuz I've been crying."
"I'm so proud of this record," he continued, "and I'm so thankful to have all the awesome reception, all the love you guys have been showing with this record only being out for a few days. I feel the love from you guys, and I truly think I have the best fans in the world, so thank you, thank you for being here."
Staying true to its sequence, the chart-topping artist-writer transitioned into track three from the just-released project, a song he introduced as "a song that I wrote about justice, about doing what you think is right. A very special song to me, one of my best and very favorite songs that I've ever written," "wait in the truck." Received with a deafening response, the verging on Top 10 country single shook the walls, with all 300+ attendees belting the "have mercy" post-chorus at the top of their collective lungs.
Flying through the country top half of the record, HARDY closed out the 30-minute set with the first half of title track "the mockingbird & THE CROW" solo, just him and an electric guitar, leaving fans with a cliff-hanger that minutes later resumed at The Roxy, launching the rock half of the evening.
Making only one chronological exception to play debut album rocker "BOOTS" before its referential sophomore album counterpart "TRUCK BED" — "I'm supposed to play THE CROW front to back but let me see if I can switch something up real quick. My record label is going to kill me for this…" – HARDY unleashed. Soaring through early favorites like "SOLD OUT," #11-and-climbing rock single "JACK," "I AIN'T IN THE COUNTRY NO MORE," and buzzy kiss-off "RADIO SONG," HARDY's harder tendencies were the magnetic, undeniable force that rounded out a one-of-a-kind night.
With the presentation of this record and the two halves of an artist rising to new heights, fans and critics are quickly being introduced to the fullness of "HARDY the artist, determined to tell his truth his way, to embrace all the music that's pumping through his veins" (HITS).
Tomorrow, the in-demand hit-maker rejoins duet partner and reigning CMA Female Artist of the Year Lainey Wilson for the late-night debut of their instant classic "wait in the truck" on The Tonight Show Starring Jimmy Fallon at 11:35pm ET/10:35pm CT on NBC. Then Thursday, HARDY will make his morning TV debut on the third hour of NBC's TODAY with early favorite album cut "screen" – check your local listings.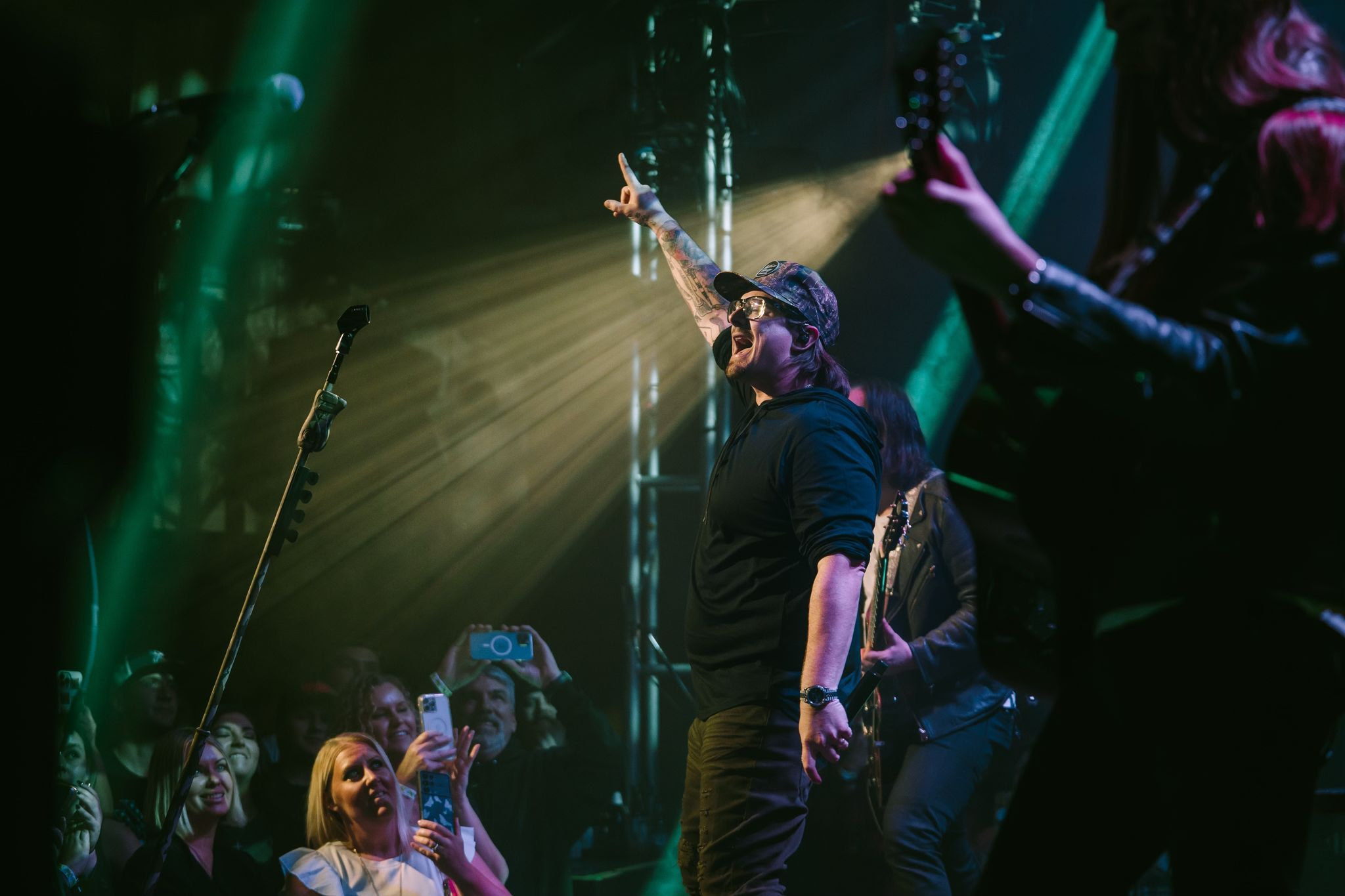 HARDY takes Los Angeles' The Troubadour by storm (1/23) | Image by Brayln Kelly
HARDY rocks The Roxy (1/23) | Image by Brayln Kelly